A Facebook memory popped up the other day, it marked the passing of Dr. Andrew Grove, the retired CEO of Intel.
In 1996, back when I was smart, I was invited by Compaq, Intel, and Microsoft to participate in a conference called Innovate Forum 97. The conference brought together representatives from around the world, from a variety of industries to discuss and share thoughts and ideas with leaders of technology industries. I was honored to be part of the education group.
Dr. Grove visited with us about his recently published book, Only the Paranoid Survive, released that year. In it, he writes about significant events that occur in the life of a business. He calls them Strategic Inflection Points.
"A strategic inflection point is a time in the life of a business when its fundamentals are about to change. That change can mean an opportunity to rise to new heights. But it may just as likely signal the beginning of the end. They are full-scale changes in the way business is conducted, so that simply adopting new technology or fighting the competition as you used to may be insufficient."
Dr. Grove, working with Michael Porter of Harvard University, lists six factors that can cause a strategic inflection point. They are:
Power, vigor, and competence of existing competitors;
Power, vigor, and competence of complementors;
Power, vigor, and competence of customers, I would add both internal and external customers;
Power, vigor and competence of suppliers;
Possibility that what your business is doing can be done in a different way; and
Power, vigor, and competence of potential competitors.
While his book is not intended for the education market, I believe that there are parallels when we view education not as a legislated monopoly, but as a competitive business in an environment of expanding choice.
Since its inception, educators decided what was good and what wasn't. We set our own quality levels and our own specifications to meet them. As a legislated monopoly, nobody ever questioned that we had the right to do that, and generally we were on target. But now, we are being openly questioned and challenged in the light of emerging technologies and the power of those tools to alter and enhance the teaching-learning process. Many critics point out that the  problems with our educational system are not that it is been doing its task poorly, rather, the schools have not responded in a timely and effective fashion.
We are being impacted by several of Dr. Groves' inflection points, and too many of us still seeing them as threats to the status quo rather than opportunities to respond to the changing expectations being placed on our graduates.
I am currently serving as the Chair of the Montana ACT Council. In the past two weeks, that position has given me the opportunity to explore in depth how we can change to better meet the expectations of our "external customers," those who hire our graduates.
I was honored to serve as Director of High School Programs at the Central Educational Center in Newnan, Georgia during the 2003-04 school year when we were named a National Model High School by the International Center for Leadership in Education. With an enrollment of approximately 1,100 students, and growing, we could boast a five year average graduation rate of 98%. Of that 98%, 100% of them were either full-time employed in their career of study, full-time enrolled in post-secondary schools, or a combination of both within 6 weeks of leaving us. And we guaranteed their knowledge and skills.
One of the keys to our success was our implementation of a Work Ethics curriculum. Every student was evaluated every day, in every class, on the following 10 traits:
Attendance
Character
Teamwork
Appearance
Attitude
Productivity
Organizational Skills
Communication
Cooperation
Respect
We believed then, and it remains true today, that more people are fired from jobs not because they lack the technical skills to perform them,  but that they lack the work ethic skills needed to be a valued employee.
The work ethic score was a separate line on both the quarterly report card and final transcript. What is important gets measured. We shared that these were important skills and attitudes by measuring them. How else would our students understand that they were important to their futures?  Each semester, potential employers would meet with our new students to explain the work ethics program, and impress upon our kids that they placed more importance on that score than on the GPA or class rank.
The academic score, to them, was only a snapshot of what the student knew at one point in time, it was not indicative of what could be learned. They explained that they would constantly be working with their employees to upgrade their technical skills. But if they could find employees with the necessary "soft skills," it was a win-win for all. In other words, they expected to continually teach new skills. But they would not teach attitudes. Those had to come with the employee.
Two weeks ago, I spent several days in San Antonio attending the ACT State Organization Spring Summit. I devoted most of my breakout session time to immersion into what ACT calls their Holistic Framework.
We are all familiar with the ACT test we took as juniors and seniors in high school. The beauty of working with ACT in the council role is to discover the other tools they have developed to help us help our students (internal customers) for what life expects of them once they leave us. They holistic framework is one of those tools, and it parallels what we had in place at CEC.
It consists of 4 parts:
Core Academic Skills: knowledge and skills necessary to perform essential tasks in core academic content.
Cross-Cutting Capabilities: general knowledge and skills necessary to perform essential tasks across academic content areas.
Behavioral Skills: interpersonal, self-regulatory, and task-related behaviors important for adaptation to and successful performance in education and workplace settings.
Education and Career Navigation Skills: focuses on what individuals know about themselves and their environments, and how they use this information to make choices, plan actions, and move along their education and career paths.
There are significant parallels between education and work success, they are multi-dimensional, so readiness for both naturally should focus on diverse sets of knowledge and skills.
Last week, our Council presented our ACT Workplace Success Exemplar award to Boeing Helena in recognition of the work they do with the Helena School District, Helena College, and the greater Helena community. During our conversation with their leadership team, we asked what they looked for in employees. Not surprisingly, they told us the same things we had learned at CEC, skills will be continually taught and upgraded, attitudes need to be part of the hiring portfolio.
So how are we doing in this area? Are we focusing so much on the academics and test scores that we are short-changing the attitudes and traits the external customers need from our graduates?
This was weekend reading recently…http://www.digitaltonto.com/2017/these-3-technological-forces-that-are-changing-the-nature-of-work/
I suggest that SBAC, PAARC, ACT and SAT, with their focus on teaching and the acquisition of knowledge, aren't going to help us prepare our graduates for this kind of work. But a multi-dimensional approach based on learning and the application of attitudes along with knowledge and skills will certainly help us better meet the needs of our external customers.
The good people in Helena, Montana get it! The discussion between the leadership at Boeing, the Helena School District and Helena College was about creating processes and programs that will ensure prepared graduates at every level, and will allow Boeing to continue to be an industry leader.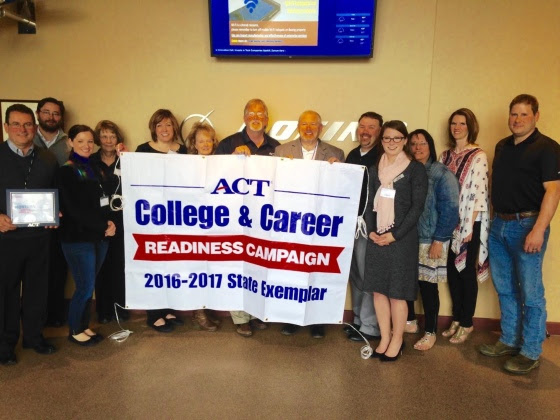 Hope springs eternal!